A successful wine promotion can be as small as a tasting lunch for a group of local wine and food lovers or as grand as an 80-wine, 1200-person tasting such as the one Meadowood Country Club hosts each summer during the Napa Valley Wine Auction.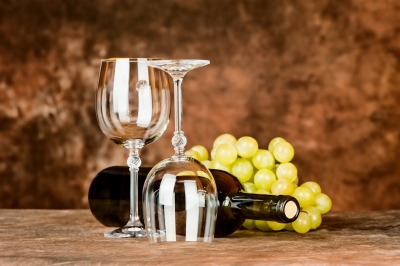 A wine event can have widely different goals, from focusing press attention on your restaurant, hotel, or club to bringing in new customers and generating excitement among your existing clientele.
But no matter what its size or who it's for, a wine event is never as easy to organize as it sounds.
WORTH THE TROUBLE
Don't let that stop you. Because when it's done right, a wine tasting is one of the trendiest, most successful methods for building business and establishing a sophisticated reputation at the same time. "Promotionally, wine tastings are worth every bit of work they take,' says Barry Mills, cellarmaster at New York City's Windows On The World, unquestionably one of the country's leading wine-oriented restaurants with $2.5 million in wine sales per year. "Each time the press mentions that an existing tasting is taking place at Windows On The World, it enhances our reputation as a serious restaurant committed to the best in food and wine.'
Wine events are, of course, no longer new. Restaurants such as Windows On The World or hotels such as San Francisco's Stanford Court have been mounting tastings for years. But the majority of restaurants, clubs and hotels still haven't tried the idea.
"It's surprising to me that more restaurants don't do tastings because they're a perfect promotional and educational opportunity and customers love them,' says Richard Lavin, owner of 100-seat Lavin's in New York City, now in its fourth year of Invite-The-Winemaker luncheons. About 40 winemakers and winery owners a year pour their wine at Lavin's midtown Manhattan restaurant.
"A lot of restaurants, clubs and hotels in California and New York will host tastings,' stresses Michaela Rodeno, vice president, communications for the sparkling wine firm Domaine Chandon. "But as a winery, we'd like to see tastings done in other cities around the country.'
Rodeno says this has already begun to happen. (Domaine Chandon began a program of "wine training staff seminars' for restaurants and hotels a year and a half ago and has done more than 125 of these seminars for the trade thus far.)
Now that some pioneering restaurateurs have broken the ice, other restaurants are adapting past successes– and avoiding past mistakes–in creating their own wine events. By knowing what's worked for others in the past, you can tailor a wine tasting to fit your own business needs, which will give added thrust to your existing promotional activities.
NOT JUST FOR SNOBS
The first myth to erase from your mind is that wine events are somber affairs that take place in staid settings. The restaurants and hotels that do the best tastings have one thing in common: They all make the experience casual and fun.
Lavin's Invite-The-Winemaker program is an example. At lunch (two seatings), every customer is given complimentary 2-ounce "tastes' of two different wines from a single winery. The visiting winemaker or winery principal (Lavin does not invite wine sales reps) is on hand to introduce himself and chat briefly–and informally –with customers.
"I often walk around with the winemaker,' explains Lavin. "Generally, we just ask customers "Which wine do you prefer?'–not "Do you like wines?' This isn't a wine class. We don't want to put our customers or the winemaker on the spot. As a restaurant, we want people to enjoy themselves; and we don't want to be pretentious.'
The visiting winemaker's wines–besides being offered as "tastes'–are also featured by the glass and are availability by the bottle. At the same time, the regular selection of wines by the glass and bottle is available so customers don't feel compelled to order the featured winemaker's wine if they'd prefer to drink something they are already familiar with.
KEEP IT CASUAL
Casualness is equally important when a hotel restaurant does a wine tasting. At New York City's year-and-a-half-old Novotel Hotel, wine tastings in the Wine Bistro are stand-up, impromptu, and complimentary. And, they are open to hotel guests and general public alike. "We don't want to have businesslike tastings,' says food and beverage manager Richard Chanofsky. "We're trying to do something different and we're not just looking at the hotel market. We want to create a new era for hotels by encouraging business from hotel guests, local business people, and city residents.
The Novotel tastings are held several times a month, always on "slow' (Monday, Tuesday or Wednesday) evenings. A tasting table is set up near the bar and anyone in the hotel is encouraged to wander in for complimentary tastes. A winery representative is on hand to pour and talk about the wine. "Depending on when a customer walks in, he might be offered anything from three different Cabernets to new releases from a boutique California winery,' says Chanofsky. The tastings, he adds, have acted as "a profitable venture,' because they encourage other wine sales. Incidentally, the complimentary tastes offered at the tasting table are provided by the winery, not purchased by the hotel.
LOGISTICS
There are two basic types of wine tastings: stand-up and sit-down. Stand-up tastings are generally for larger groups of people. They're also best when you want to stage an event that is as much social as it is serious.
Sit-down tastings are more structured and generally more academic. That doesn't mean they're less fun– simply that the tasting has a purpose and the tasters have a goal. "Some of the best sit-down tastings involve a dinner,' says Richard Lavin. "We did one tasting dinner with vintages going back to 1946 as aperitifs, then we matched the winery's new releases to a multi-course dinner–all new American cuisine.
A stand-up tasting of old wines and new releases wouldn't have been as exciting. The sit-down tasting dinner put the wines in perspective and gave the tasting meaning.'
Whether your tasting is sit-down or stand-up, the most innocuous details can be devastating when they're overlooked, so plan carefully. "I remember a tasting in a hotel ballroom where the hotel staff had shampooed the carpet the night before,' says Michael Rodeno. "The place reeked so strongly of chemical solvent, no one could taste the wine.'

OVERLOOKED DETAILS
Sometimes even obvious details–like having enough corkscrews–are overlooked or neglected. At the pre-auction Napa Valley tasting that Meadowood Country Club hosts each year, 80 vintners pour their wines for 1,200 people on the club's fairway. Because the event is large and held outdoors, it requires a significant amount of organization and has a chairman who begins planning nearly a year in advance. Most of the tasters strolling along the green on that summer evening have no idea of the behind-the-scenes details that make the event a success. For instance, parked and camouflaged on the perimeter of the fairway is a refrigerated milk truck hooked up to a generator to make sure all the white wines remain properly chilled throughout the evening.
PROPER TRAINING
Besides attention to detail, the establishments that put on successful tastings say the most basic necessity is a well-trained staff. "Eighty percent of our wine sales are due to staff training,' says Windows' Barry Mills. "We couldn't do 800-person stand-up tastings such as the New York Wine Experience without a well-trained staff.'
Staff training is your responsibility, but wineries are often willing to help. Many wineries offer operators free-of-charge staff training seminars to help restaurants promote their products. "We go to the restaurant or hotel and teach the staff how to encourage wine sales and conduct wine events,' says Rodeno. "It's basic stuff and we make it fun.'
If you're thinking about hosting a wine event and you'd like to have a winery involved, remember that you have something valuable to offer. Groups of vintners that tour the U.S.–such as the Napa Valley Wine Forum–are always looking for new restaurants and hotels to display their wines and hold events. By having a reputation for good food and good service, you'll be noticed by wine distributors and others in the industry that report back to the wineries. You may even want to write several wineries directly, suggesting a tasting.
But whether a tasting has a participating winery or not, the bottom line is the same–successful wine tastings are a proven way to enhance your image and build your business.